NOMADIC ACADEMY IN POLAND, 13. – 19. NOVEMBER 2019
TANZPAKT Stadt-Land-Bund
The first step of the NOMADIC ACADEMY in a partner country is Poland, where the ACADEMY ist hoasted by the Jerzy Grotowski Institut in Wroclaw (en.grotowski-institute.art.pl) and curator Anna Krolica. In workshops, trainings and discussions the subjects of free spaces, alternativ spaces and border(s) with a focus on evasion, displacement and resistance will be tackled. These topics will be explored under the keywords QUER and QUEER (QUER – a German term which means cross, transvers, diagonally). We collaborate here with a crew of local dancers and makers and the members of the Munich reasearch group Anna Konjetzky Quindell Orton and Sahra Huby will be also in Wroclaw.
Impressions Nomadic Academy Poland 2019
13. November, 7 pm / nomadic performance "ABOUT A SESSION" by Anna Konjetzky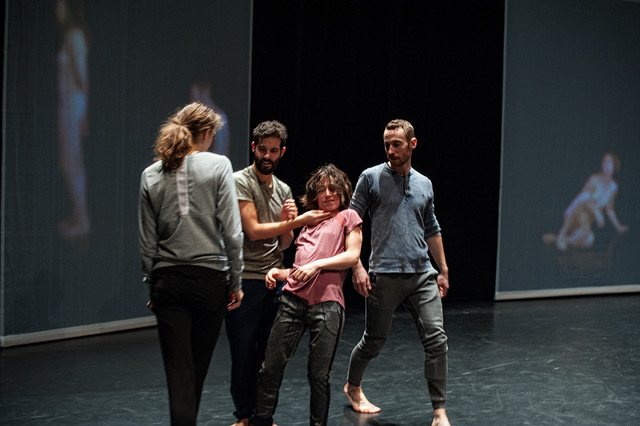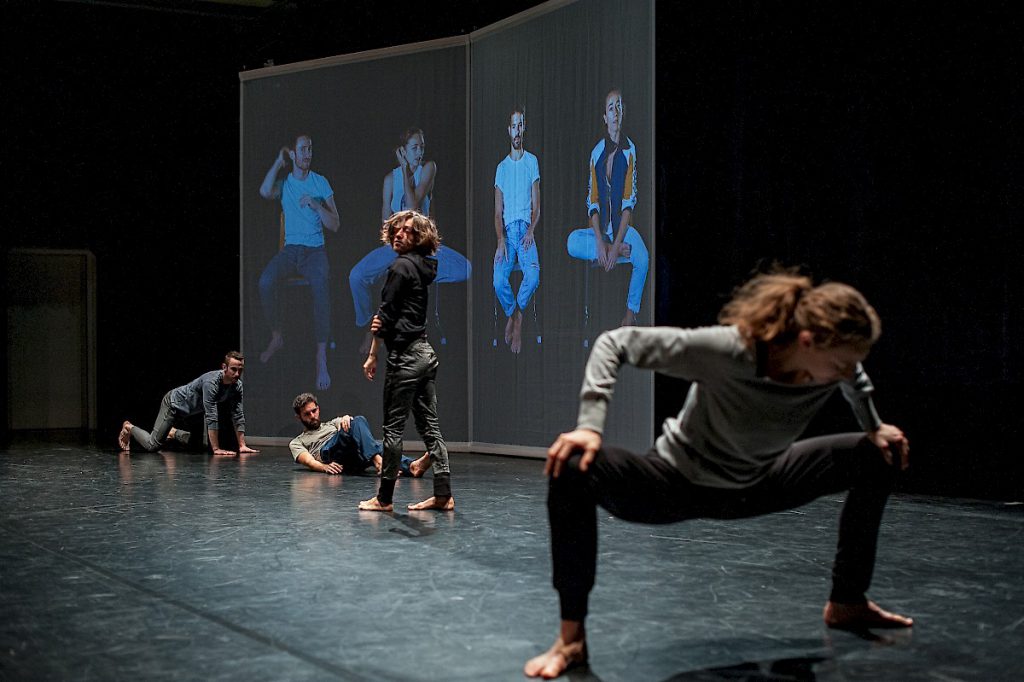 The term session means a meeting that is limited in time. Borders and rules are established, stretched or repealed in order to make new experiences and knowledge possible. The new piece by the choreographer Anna Konjetzky, who resides in Munich, addresses the about – and sessions as such. Being distant and being involved are not a contradiction.
ABOUT A SESSION melds sensual experience and analysis, and is thus an act of contemplation about and with bodies. Can reflecting on or discussing arousal actually arouse? Can it stimulate the audience's sexual fantasies?
How does the audience gaze at the dancers? Which movements, words and gazes stimulate? Which gazes sexualize the performing bodies? And what moments sexualize the present and observing audience members?
Just like when one surfs and googles on the internet, imagination and projections are roused. This then allows for the possibility of following a motif or drifting off. Elements of a lecture performance arise. With their bodies, the dancers explore their own relationship between desire and arousal. A voice from the outside describes the situation, also observes the audience, offers information, directions and images, lets the action continue on video, goes from there back on stage and is translated into movements by the dancers for the audience. In the audience's minds, a number of images of desire overlap in the contradiction or the doubling of word and image. In thinking about and with the body, analysis and sensual experience intertwine.
Choreography: Anna Konjetzky // Dance: Sahra Huby, Quindell Orton, Maxwell McCarthy, Victor Perez Armero // Video: René Liebert // Scene: Hannes Hartmann, Leonie Mohr // Scene: Hannes Hartmann, Leonie Mohr // Dramaturgy: Bastian Zimmermann // Music: Serge Maingardt
Where: Grotowski Institute,
Studio Na Grobli, 50-101 Wrocław
18. NOVEMBER / nomadic lecture "Love Is Not Romance, honey" by Jeremy Wade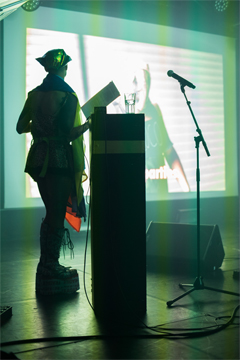 An impossibly possible political ritual that asks for your participation, Jeremy Wade's 5000-year-old Battlefield Nurse alter ego is sick of how crucial terms such as care, repair and love have been sold down the river in the violent present. The Nurse knows that love is a force to recon with, but she wants to put this love thing to the test to serve as a social-political strategy for times of crisis. "All kinds of social movements have to do with peoples co involvement with strangers," says theorist Michael Warner. Thanks Michael! The nurse would add that love as politics has been an implicit strategy for numerous civil rights movements. However, love is sold to promote the endless paradigms of exclusive norms and tickets on a cruise ship called social reproduction. The honey moon is over! Can we rewrite all the shit stories around love? Where is love? At the moment it seems mired in sticky romance and cheap lockets that bind its potential in the incestuous circle of normative relations. We need love to serve as force of interdependence with intimate strangers and all earthly creatures. Sing it!! The Battlefield Nurse will lead a participatory intervention, a fake political ritual repositioning love as a hyper relational ethic. Side effects may include quitting your job, becoming a social worker and wielding love as a force that can bring all of us strangers together better on the battlefield.
See more: https://www.futureclinic.org
Where: Grotowski Institute,
Studio Na Grobli, 50-101 Wrocław
18. November / nomadic workshop "TECHNOLOGIES OF IMPOSSIBLE REPAIR" by Jeremy Wade
Greetings folks, I'm looking forward to facilitating a workshop with you. I will host this workshop as a one of the many nurse characters I have developed in my work, this one is dead but quite nice none the less. Looking forward to spending time in the studio together. I'm going to map out my work as a performer, performance maker curator and teacher that's been an evolving through critical perspectives on care and repair. Get ready to spit in a bucket, to connect to each other and the universe with hippy dancing, get ready for solidarity cream, please join me in clearing out the phallic ghosts of institutions past present and future with the caretaker exercise and of course get ready to incorporate the gestures of care and support brought to you by past present future mother archetype's of many genders in the ever-popular circle dance of systemic support. Please bring comfortable clothes because we are going to talk and watch stuff but obviously we are also going to dance. (Jeremy Wade)
Where: Grotowski Institute,
Studio Na Grobli, 50-101 Wrocław
"Nomadic academy" is a project of Anna Konjetzky. Funded by TANZPAKT Stadt-Land-Bund with the support of the German Federal Government Commissioner for Culture and the Media. With friendly support of the Department of Arts and Culture of the City of Munich, GLS Treuhand e.V. and STEP travel grants, an initiative by the European Cultural Foundation with the support of Compagnia di San Paolo. In the framework of "Nomadic academy" the production "about a"about a session" ist shown, wich was produced with support from the Department of Arts and Culture of the City of Munich, the BLZT, Bayerischer Landesverband für zeitgenössischen Tanz, aus Mitteln des Bayerischen Staatsministeriums für Wissenschaft und Kunst and the Bezirk Oberbayern. Realized in Koproduktion with Münchner Kammerspiele.